Qwo Cellulite Treatment - Boston South Shore
Qwo Anticellulite Injectable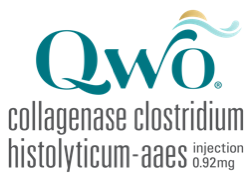 Qwo® (collagenase clostridium histolyticum-aaes) is a prescription injectable medicine used to treat cellulite. It is the first and only FDA- approved injectable available for use in treating moderate to severe cellulite in the buttocks of adult women.
How is Qwo administered?
Qwo is injected by Dr. Hamori into targeted dimples in the buttocks. You may receive injections in up to 2 treatment areas at each visit. A typical treatment plan will be 3 treatment visits 21 days apart, although your treatment plan may vary. The treatment takes approximately 10 minutes with the doctor.
What is Qwo? Video explainer
How the Qwo injectable works to reduce cellulite in the buttocks of adult women
Comparing cellulite treatments
Qwo is unique as a cellulite treatment as it is an injectable. An alternative treatment for cellulite is VelaShape. While Qwo will cause some bruising initially, it is a permanent treatment, whereas Velashape may require maintenance treatments to maintain shape and smoothness.
What are the side effects of Qwo?
Qwo may cause allergic (hypersensitivity) reactions, including more serious anaphylaxis, and injection site bruising. In clinical trials, women required no post-treatment downtime. Most bruising lessened after each treatment and resolved in less than 21 days.
Please talk to Dr. Hamori to determine if Qwo may be right for you.
For more information, see the Qwo website at: qwo.com.
More information: Click a section to expand category…
Before And After

Qwo - Before + After - (images from manufacturer)




---

Safety Information

Do not receive QWO if you:

• Are allergic to any collagenase or to any of the ingredients in QWO. See the end of this Patient Information for a complete list of ingredients in QWO.

• Have an active infection in the treatment area.

Before receiving QWO, tell your healthcare provider about all of your medical conditions, including if you:

• have had an allergic reaction to a QWO injection in the past

• have a bleeding problem

• are pregnant or plan to become pregnant. It is not known if QWO will harm your unborn baby

• are breastfeeding or plan to breastfeed. It is not known if QWO passes into your breast milk. Talk to your healthcare provider about the best way to feed your baby if you receive QWO.

Tell your healthcare provider about all the medicines you take, including prescription and over-the-counter medicines, vitamins, and herbal supplements. Especially tell your healthcare provider if you take a medicine that prevents the clotting of your blood (antiplatelet or anticoagulant medicine).

How will I receive QWO?

• QWO is injected into the fat (subcutaneously) of each single buttock (treatment area) by your healthcare provider. You may receive up to 12 injections per treatment area.

• Each treatment visit may include up to 2 treatment areas.

• QWO injections will be given 21 days apart for 3 treatment visits.

What are the possible side effects of QWO?

QWO may cause serious side effects, including:

Allergic (hypersensitivity) reactions, including anaphylaxis. Call your healthcare provider right away if you have any of these symptoms of an allergic reaction after an injection of QWO:

• hives

• swollen face

• trouble breathing

• chest pain

• low blood pressure

• dizziness or fainting

• injection site bruising.

The most common side effects of QWO include bruising, pain, areas of hardness, itching, redness, discoloration, swelling and warmth in the treatment area.

These are not all of the possible side effects of QWO.

Call your doctor for medical advice about side effects. You may report side effects to FDA at 1-800-FDA-1088.

General information about QWO

Medicines are sometimes prescribed for purposes other than those listed in a Patient Information leaflet. If you would likemore information, talk to your healthcare provider. You can ask your pharmacist or healthcare provider for more information about QWO that is written for health professionals.

What are the ingredients in QWO?

Active ingredient: collagenase clostridium histolyticum

Inactive ingredients: mannitol, sucrose, tromethamine, and hydrochloric acid

The diluent contains: calcium chloride dihydrate, sodium chloride, and Water for Injection, USP

Manufactured by: Endo Global Aesthetics Limited, Dublin, Ireland US license number 2136

Distributed by: Endo Aesthetics LLC , Malvern, PA 19355

This Patient Information has been approved by the U.S. Food and Drug Administration Issued: 07/2020

Learn more at qwo.com.
Questions about Qwo and cellulite?
Take the next step; schedule a consultation with Dr. Hamori or Dr. DiEdwardo.
Questions? Please call us.
Send us an email.