AccuTite Body Contouring - Boston South Shore
AccuTite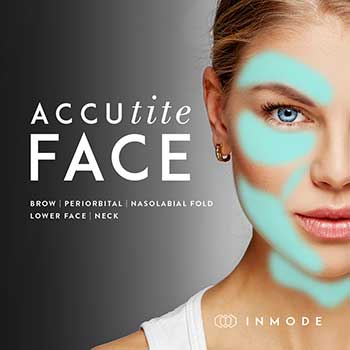 AccuTite is the latest in the radio frequency assisted lipolysis (RFAL) family of technologies. It uses radio frequency energy for internal fat lipolysis and external collagen contraction. It is the smallest contraction device available in cosmetic medicine allowing for pinpoint targeting of treatment areas for the most accurate results for face and body contouring.
AccuTite for face and neck
The minimally invasive procedure is perfect for hard to reach areas and any area with saggy skin or excess fat. Common areas for the face include:

brows
around the eyes
nasolabial folds
lower face / jowels
neck.
AccuTite for body contouring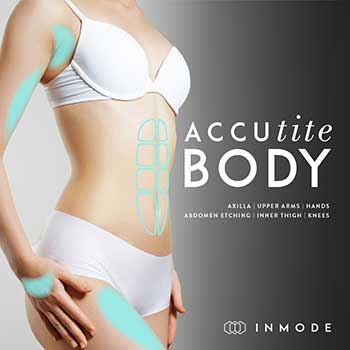 This same technology can be used for body sculpting and tightening. It uses a slightly larger device, also called BodyTite, which can address these body areas:
under arm area (axilla)
upper arms
abdomen etching
inner thighs
knees
labia minora (see AVIVA)
labia majora (see AVIVA)
Patients who need precision fat reduction or skin contraction now have a new solution that can be done under local anesthesia, in an office setting without excisional surgery.
Dr. Hamori describes how AccuTite from InMode Solutions offers treatments for facial and body contouring and firming as well as prejuvenation at the ASAPS 2019 Conference in New Orleans.
How it works: 3D animation of Accutite minimally invasive body contouring solution.
Is AccuTite right you you?
Schedule a consultation with Dr. Hamori to discuss your specific concerns to find out what treatments are best suited to your unique needs. Call: 781-934-2200.
See other treatments for body contouring.
Surgical procedures:
Non-surgical treatments:
Female genital body countouring treatments: