Breast Implant Surgery - Boston's South Shore / Cape Cod
Breast Augmentation
Dr. Hamori and Dr. DiEdwardo are breast specialists and have been performing breast augmentation for more than 20 years. Surgical incisions are small due to the use of the Keller Funnel which allows safe placement of breast implants. Our surgeons perform a quick recovery protocol so that patients can return to work in just a few days.
"…I thank Dr. Hamori for changing my life and making me feel like I should.

Thanks, A.C."
"It is obvious you take great pride in offering top, top quality care…

Sincerely yours, D.S."
Choosing between silicone and saline breast implants
During your surgical consult, your sugeon will guide you in the selection of the type and style of implant. Thinner patients may prefer the more natural feel and appearance of a gel implant, whereas patients who have more breast tissue may like the fullness of a saline implant.
Breast augmentation with fat grafting
Your surgeon can also can perform breast augmentation using fat grafting — instead of, or in addition to, implants. Fat is harvested from a patient's hips, abdomen or thighs, and grafted into the breast for a natural look. For more information, please contact Dr. Hamori or Dr. DiEdwardo.
---
Patient Decision-Making Aid for Breast Augmentation Surgery - from The Aesthetic Society.
BIA-SCC Statement - from American Society of Plastic Surgeons
BIA-ALCL Safety Advisory - from the American Society of Plastic Surgeons
See also, Dr. Hamori's blog posts on: BIA-ALCL and Allergan Textured Implants as well as her video response to ALCL concerns.
---
A common preference is round smooth implants placed partially beneath the pectoralis muscle. While, this procedure may cause a bit more discomfort postoperatively, Drs. Hamori and DiEdwardo believe the pectoralis major muscle helps support the long-term shape and position of the implant. Implants in this position also allow mammograms to be more easily read by radiologists. Your surgeon will work closely with you to select the options that work best for your particular body in an intimate one-on-one consultation.
The art and science of breast implants
To reduce any visible scars and to achieve the most natural looking results, your surgeon utilizes small incisions placed either beneath the breast in the natural skin fold or along the edge of the areola.
To learn more about breast augmentation surgery and techniques, and to educate yourself in order to have the most beneficial consult with your surgeon, please review the educational information below that she has gathered for patient exploration. Simply click on each of the blue bars below to expand that section with instructive materials.
Included is a comprehensive Patient Decision-making Aid to address questions including:
How should I prepare for decision-making?
Is plastic surgery right for me?
Should I have breast augmentation surgery?
What questions should I ask my plastic surgeon?
What are my next steps?
More information: Click a section to expand category…
Are you considering breast implant surgery?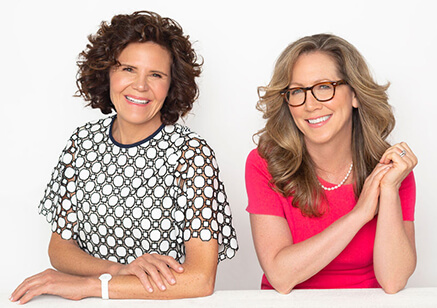 "Breast augmentation is a big decision and we understand you have many questions. Why not get the conversation started?"

Christine A. Hamori, MD, FACS Christine A. DiEdwardo, MD, FACS
Take the next step; schedule a consultation with Dr. Hamori or Dr. DiEdwardo.
Questions? Please call us.
Send us an email.