Laser Skin Treatments - Boston South Shore
Laser Skin Treatments
Christine Hamori's Skin Spa uses the latest in cosmetic lasers to treat a variety of skin conditions including:
Sun damage / age spots (hyperpigmentation)
Wrinkles / fine lines
Acne scars / surgical scars
Rosacea / redness
Spider veins of legs and face
Stretch marks
Hair removal.
The Latest in Aesthetic Lasers
Drs. Hamori and DiEdwardo are constantly evaluating non-surgical aesthetic technologies in order to provide the safest and most effective treatments for their patients. Our skin care lasers are upgraded as newer technologies are proven to provide a better solution. Currently we offer the following laser technologies to treat the most common skin conditions.

Leading the laser technologies available in the Skin Spa is the Fraxel Dual (1550 nm and 1927 nm) fractional laser. Dr. DiEdwardo describes Fraxel as "the gold standard for non-ablative lasers," and highly effective for treating fine lines/wrinkles, sundamage, and pigmentation for face, hands, chest. "It is also one of the best lasers to treat scarring, such as acne or surgical scars," according to DiEdwardo. As a non-ablative laser, treatments with Fraxel require much less downtime than ablative lasers (such as the Deka CO2 Laser, see below) so are attractive to patients looking to avoid significant downtime and as well as patients who desire proactive treatments to maintain their collagen as they age.

Alternatively, the SmartXide Tetra Fractional CO2 Laser from DEKA, is an ablative laser which improves on traditional mild, to moderate to aggressive fractional ablation delivery with more precision, more control and more coverage.

The Tetra CO2 laser can also provide the CoolPeel treatment, a milder fractional resurfacing treatment with less downtime than other laser treatments. CoolPeel also pairs well with Vivace microneedling for a comprehensive approach to minimizing wrinkles and acne scarring.
Dr. Hamori describes CoolPeel for The Plastic Surgery Channel.
See South Shore Magazine's article on CoolPeel offered at Christine Hamori Cosmetic Surgery + Skin Spa at this link.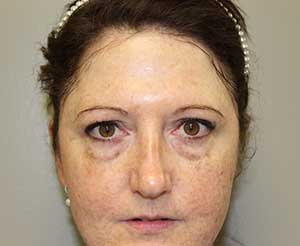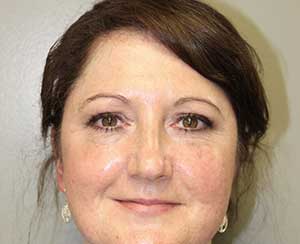 CoolPeel "Before and After" photos provided by the manufacturer.
With so many options for treating your aesthetic skin care needs, the best way to decide on a treatment is with a free skin care evaluation. Call (781) 934-2200 to schedule a skin care evaluation and we can recommend a treatment or treatments for your particular needs.
Hyperpigmentation / Age Spot Removal
Brown spots or dark skin lesions (also known as sun spots, age spots) begin to develop over the face and chest as we get older. These unsightly pigmented lesions or seborrheic keratosis can be removed or lightened using lasers. Our aesthetician or nurse will first evaluate your dark spots, then use the appropriate laser to gently eliminate or lessen the dark pigment.
Rosacea / Facial Veins / Leg Veins

Rosacea or broken capillaries of the face, nose and chin may be treated with the Excel V™ laser from Cutera. Rosacea a condition where the facial blood vessels dilate excessively causing redness and flushing. The laser heats the abnormal vessels causing the veins to seal shut. Over time, the vessels are no longer be visible. Several treatments may be necessary to achieve the desired result.
This same laser treatment is effective in treating leg veins and spider veins in the same manner.
Treatment of leg and facial veins with Excel V
After an initial consultation, your doctor or aesthetician will determine if treatment with the Excel V is appropriate. Unlike other procedures, injections or topical anesthesia are not required throughout the duration of the 15- to 30-minute procedure.
Depending on the condition being treated, the aesthetician passes the laser handpiece over the affected areas of the skin until the abnormal vessels diminish. To minimize discomfort and protect your skin, the Excel V uses a proprietary cooling mechanism. Download the Excel V brochure.
Cherry Hemangioma Removal
Cherry hemangiomas, or red spots, can be removed when treated with a laser. These unsightly spots usually occur on the chest and abdomen and virtually disappear after treatments.
Stretch Marks
Stretch marks are caused by a breakdown of collagen. Whether from pregnancy or other weight loss, stretch marks resemble scars — with newer stretch marks ranging from red to purple in color and older stretch marks appearing white or almost silver in tone.
While the appearance of stretch marks cannot be totally repaired, they can be diminished with a laser treatment called Fractional Skin Resurfacing which regenerates skin cells and stimulates collagen to create a more uniform skin surface. A series of fractional resurfacing treatments has been shown to be effective in improving the appearance of stretch marks.
If redness or discoloration persist, follow up treatments such as Microdermabrasion or Photorejuvenation also may be recommended to achieve a more consistent complexion.
For the initial treatment of stretch marks, we use the Palomar 1540 laser, which is FDA approved for scars and effective on stretch marks. Dr. Hamori has created a new stretch mark protocol for use in the Skin Spa.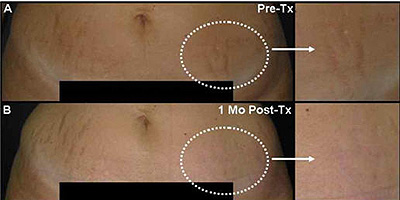 Photo courtesy of Dr. de Angelis.
We also offer Laser Hair Removal.