Laser Hair Removal - South Shore / Cape Cod
Laser Hair Removal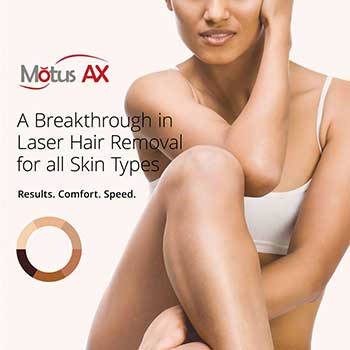 Laser Hair Removal permanently reduces hair of underarm, upper lip, cheek, bikini line, or back. Upgraded with the latest, best-in-class Alexandrite hair removal technology, the Motus AX laser allows our nurse or aesthetician to customize treatment plans for all hair types and densities. Treatments are fast, painless and more effective than ever before.
Patients are advised to avoid sun exposure to the area two weeks before and after treatment — so the non-summer months are the best times to schedule laser hair removal treatments. The site being treated may appear red for up to a few hours. Multiple treatments will be necessary, and the number of treatments varies for each individual depending on the thickness and darkness of hair.
Check out our monthly specials in the Skin Spa, which often include laser hair removal deals.
We treat clients from all South Shore and Plymouth county communities and Cape Cod.
Lip and Brow Waxing
In addition to laser hair removal, we also offer lip and brow waxing in our Skin Spa for your convenience and choice.
More information: Click a section to expand category…