Chemical Peels - Boston South Shore
Chemical Peels
We currently offer an array of peels from the ViPeel line.
ViPeel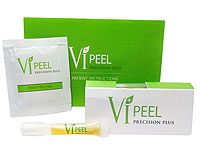 The ViPeel line represents the next generation of chemical exfoliants. Formulated with a numbing agent, they are virtually painless. Each treatment takes less than 20 minutes and healing time is minimal. Enjoy healthy, youthful, beautiful skin in about a week.
We can match the appropriate ViPeel to your skin needs:
ViPeel - The anti-aging peel - ViPeel is specially formulated to soften fine lines and wrinkles, restore a more even skin tone, and smooth away rough skin texture. Can make a noticeable difference in as little as 7 days.
ViPeel with Precision - For more advanced aging skin - Precision is a booster to be used together with the VI Peel. It is formulated with the same synergistic blend of ingredients as VI Peel but at a higher concentration.
ViPeel Precision Plus - The peel for sun spots and pigmented skin - Hyperpignmentation is a condition when patches of skin become darker than the surrounding skin. VI Peel Precision Plus is specially formulated for pigmented skin and helps reduce the appearance of age spots, brightens stubborn areas of discoloration, and smooths away rough skin texture.
ViPeel Purify - The peel for acne prone skin - When pores in the skin become blocked, bacteria builds up leading to breakouts. VI Purify is a targeted solution for acne prone skin. This peel helps to clear out dead cells to open pores, kills p.acnes bacteria, and sooths inflammation and redness.
ViPeel Purify with Precision Plus - The peel for acne scars and skin damage - VI Purify with Precision Plus is specifically formulated for acne scars helping to smooth skin texture and repair acne scars, brighten dark areas left after an acne scar, and soothe inflammation and redness.
Glytone Peel
Glytone Professional by Enerpeel® Eye and Lip addresses mild-moderate photo-aging of eye and lip area. It increases skin firmness, improves the appearance of fine lines, wrinkles and coarse crow's feet, and decreases the appearance of dark spots and dark circles. This peel requires 4 treatments with no downtime.
Which type of chemical peel is right for you?
For more information on which peel is right for you, please call our Skin Spa with your questions, price information or to make an appointment. Also, below, you can view educational animations differentiating between deep chemical peels, medium peels and superficial chemical peels.
More information: Click to expand category…