Vivace | Rejuvapen | Morpheus - Boston South Shore
Microneedling with PRP
Collagen Induction Therapy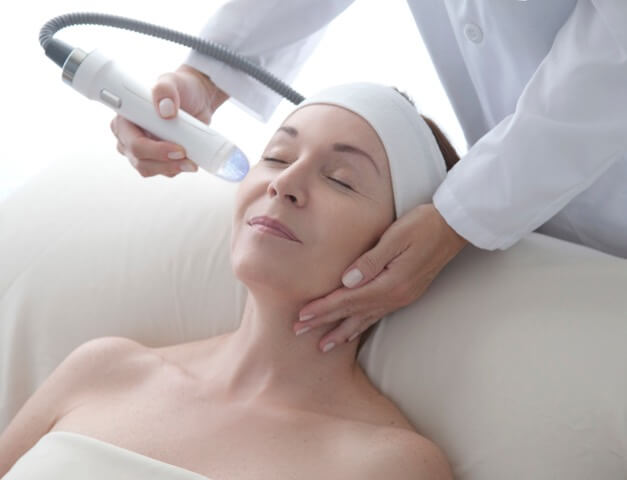 Dr. Hamori is pleased to offer three microneedling options in the Skin Spa:
Microneedling is a non-invasive treatment for rejuvenating the skin of the face, neck and body. Microneedling involves a treatment device with fine needles that create tiny punctures in the top layer of the skin, which triggers the body to create new collagen and elastin. Results include:
improved skin tone and texture
reduced fine lines and wrinkles
tighter skin
reduction of scars and pore size
reduction of stretch marks and spider veins.
Any of our microneedling treatments can be enhanced with platelet rich plasma, commonly called PRP. See more below.
The Vivace Experience™

Vivace is the newest generation of microneedling that adds radio frequency technology and is cleared by the FDA. This non-surgical treatment for contouring and tightening the face, neck and body stimulates the production of collagen, and reduces fine lines and wrinkles using the unique Vivace Microneedling RF device.
Advantages of the Vivace technology include:
The Vivace Experience™ combines this new RF microneedling device with the newest breakthroughs in numbing, treatment serums and recovery care to create an optimal experience for you that might just keep you from investigating other more invasive procedures down the road. The results are both immediate and improve over time with multiple treatments. With results you can see, you'll look and feel your best at any age.
Each Vivace treatment takes about 45 minutes (not including 30 to 45 minutes to allow for topical numbing cream to take affect). Typically, three treatments, spaced four to six weeks apart, are required. Results can take up to three months to fully appear as the process of collagen regeneration increases over time.
Morpheus 8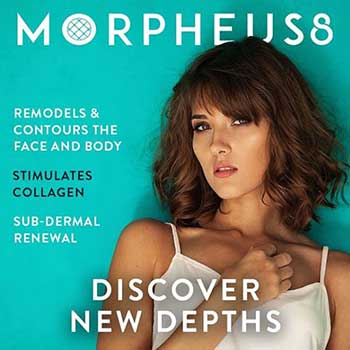 The most recent addition to our microneedling options is Morpheus 8 — a fractionated microneedling skin treatment that stimulates collagen by penetrating deep into the layers of the dermis to improve skin complexion and texture for a more radiant and youthful appearance . Morpheus is the most aggressive offering combining fractionated RF energy — to reduce wrinkles and rebuild collagen and fat — with a matrix of micro pins to renew deeper layers of the skin. It can also treat acne.
Results are visible within a few days, but are most noticeable after about three weeks. Improvements continue up to three months after treatment. Morpheus can be used on any area that can benefit from sub-dermal renewal, such as face and neck. And it works with all skin types including darker skin tones. Most patients require between one to three sessions. Plan on a couple days of downtime — sunblock and makeup cannot be applied for two days after treatment.
This technical animation shows how Morpheus 8 works.
Rejuvapen Microneedling

The Rejuvapen® uses a cartridge of nine precisely aligned microneedles to create invisible, verticle microperforations into the epidermis and the top layer of the dermis. This triggers the skin's natural repair mechanism to produce collagen and elastin to repair these perforations. Your Rejuvapen microneedling treatment takes advantage of this self-repairing property of your skin from the inside out in addition to the absorbtion of active ingredients of RP Complex™ as the skin closes.
Rejuvapen can also be used with Platelet Rich Plasma (PRP) (see more below).
Rejuvapen microneedling benefits:
Reduces fine lines and wrinkles
Lifts, tightens, rejuvenates skin
Minimizes pore size
Improves appearance of stretch marks
Improves appearance of scars
Improves acne
A full-face treatment takes one hour; four treatments spaced one month apart are recommended. Results last about a year.
Platelet Rich Plasma Microneedling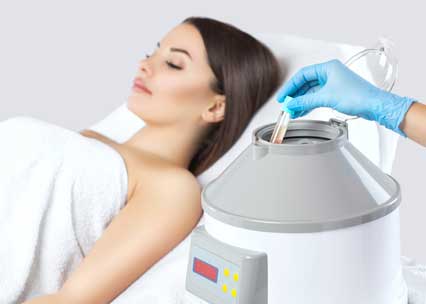 Platelet Rich Plasma (PRP) is easily extracted from your blood and processed on-site to concentrate several growth factors and cytokines. PRP is commonly used to treat sports related injuries because of its remarkable healing properties. Applying a patient's own PRP during a Microneedling treatment provides an accelerant to the skin's healing process.
Post treatment, expect three to five days of downtime due to skin redness, swelling, tightness and flaking, which is normal. A daily physical sunscreen is recommended as well as use of a gentle cleanser and frequent use of hydrating products such as RP Copper Complex Cream (all included in a post treatment kit as part of your 3- or 4-treatment package).
You can return to your normal skin care routine after two or three days (or when you are comfortable). Vitamin A products are optimal and suggested.
Avoid direct sun for 10 days if possible.
Please call for more information on microneedling: (781) 934-2200.
More information: Click a section to expand category…
Before And After

Vivace Microneedling with CoolPeel for Full Face

---

Vivace Microneedling - Full Face and Neck Treatment

---

Vivace Microneedling

---

Vivace Microneedling

---

Microneedling with Rejuvapen

---