Breast Reduction Surgery - Massachusetts
Breast Reduction
Many women are bothered by back, shoulder and neck discomfort due to the large size of their breasts. Breast reduction surgery, or reduction mammaplasty, can be the solution to these complaints while improving a patient's breast shape and proportion.
Redefining breast size and shape
During your consultation, Dr. Hamori or Dr. DiEdwardo will help you decide on a breast size and proportion that will work best for you. Reduction mammaplasty can improve the shape and size of the breasts allowing you to wear lighter bras and a wider array of clothing choices. Our surgeons prefer the Hall Findlay modification (vertical scar) breast reduction as it can provide the best projection and shape of the breast. Standard anchor reduction mammaplasty procedures can result in flattening and widening of the breast with time. Our surgeons' experience is that the vertical breast reduction retains a better shape over the years.
Note: While some health insurance may cover some breast reduction surgeries, both Dr. Hamori and Dr. DiEdwardo are considered out-of-network providers and this is a self-pay procedure.
Breast reduction surgery usually takes about 2 to 3 hours to perform under general anesthesia. This often includes some liposuction of the lateral chest to reduce the width of the breasts as well. The recovery is about one to two weeks off from work and three weeks away from the gym. The size change is apparent immediately and patients can quickly shop for smaller, more dainty bras.
See also: Male Breast Reduction Surgery
Better healing, less scarring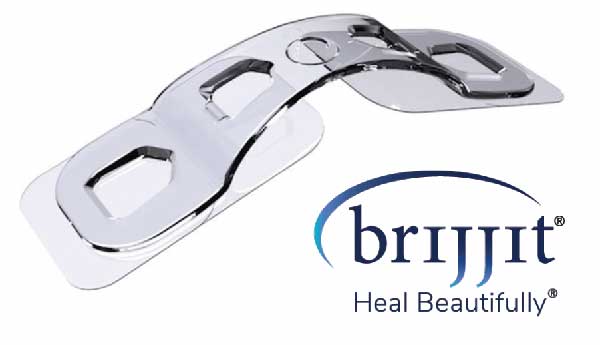 Dr. Hamori and Dr. DiEdwardo stay up-to-date on surgical and non-surgical techniques and technologies in order to bring their patients the best experience, care, and outcomes. In their surgical practice they now offer the Brijjit tissue bridge — a breakthrough clip used to close surgical wounds instead of sutures. The Brijjit tissue bridge closes and supports the breast reduction wounds and eliminates the tension that leads to scarring. Ask your breast reduction surgeon about the enhanced healing advantage available with Brijjit. Learn more here.
Understanding breast reduction surgery
Please explore the resources below prior to scheduling your surgical consultation with Dr. Hamori or Dr. DiEdwardo. This will provide you with a basic understanding of breast reduction surgery and the terminology. Feel free to take any notes and bring them with you when you meet with your surgeon so you can have all your questions answered.
More information: Click a section to expand category…
Before And After

Breast Reduction - Actual Patients
The same before-and-after results may not occur for all patients

Patient 0 - Breast Reduction with Brijjit
Early result, 10 weeks post op

---

Patient 1 - Breast Reduction
40 year old, Hall-Findlay Bilateral

---

Patient 2 - Breast Reduction

---

Patient 3 - Breast Reduction
Lollipop Mastoplexy

---

Patient 4 - Breast Reduction

---

Patient 5 - Breast Reduction

---

Patient 6 - Breast Reduction

---

View more breast reduction photos in our Before + After Gallery...

---

Breast Reduction Resources

For more information on breast reduction and to begin your research, please visit:

The website is a project of the American Society of Aesthetic Plastic Surgery, which will provide you with a solid foundation of knowledge and answer many common questions. Review of this site will also allow you to ask informed questions when you meet with Dr. Hamori for your surgical consultation.

Surgical Animations

Breast reduction surgery explained.

Are you considering breast reduction surgery?

"Breast reduction is a big decision and we understand you have many questions. Why not get the conversation started?"

Christine A. Hamori, MD, FACS

Take the next step; schedule a consultation with Dr. Hamori or Dr. DiEdwardo.

Questions? Please call us.

Send us an email.

Related Pages

Top