Hair Loss Treatment - Boston South Shore / Cape Cod
PRP Hair Restoration
Platelet Rich Plasma (PRP) Therapy for Hair Loss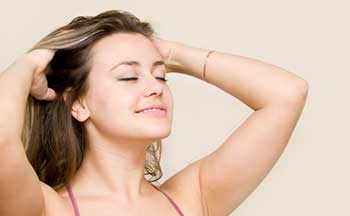 Platelet Rich Plasma Therapy has been shown to be an effective treatment for both men and women who are experiencing recent hair loss.
What is platelet rich plasma therapy? It is a process of using the healing power of your body's own blood platelets to halt hair loss and enable new hair growth. Platelet rich plasma (PRP) is a substance derived from your own blood that aids in hair restoration by promoting the growth of hair and skin cells at injection sites. PRP is easily extracted from your blood and processed on-site to concentrate several growth factors and cytokines. PRP has been used in professional sports medicine for more than a decade to help speed healing after injuries and surgeries.
Platelet rich plasma for hair growth
The best candidates for successful treatment are men and women whose hair loss is recent.
The 3-step, in-office procedure is quick with no downtime.
First your own blood is drawn and placed in a centrifuge, which separates out the platelet rich plasma. Next, while the blood is being processed, topical numbing cream is applied to treatment areas to allow for a comfortable treatment. Tylenol may also be taken before treatment to minimize discomfort. Then, Dr. Hamori or Dr. DiEdwardo injects the PRP into the scalp at the hair follicle level.
Dr. Hamori treats a male patient with platelet rich plasma (PRP) therapy for hair loss.
The whole process takes about half an hour. Three treatments, one month apart, are recommended to achieve optimal results because of the natural growth cycle of hair. An increase in hair thickness can be noticed in about two to three months.
Dr. Hamori and Dr. DiEdwardo treat clients from all Boston South Shore and Plymouth county and Cape Cod communities in their Duxbury, Massachusetts practice.
More information: Click to expand section.